Atlanta is never lacking outstanding theatre, whether epic Broadway shows, engrossing dramas or bold fringe offerings. BroadwayWorld is rounding up our top recommended theatre every month. This month's top picks include An Intimate Evening with David Foster & Katharine McPhee and more!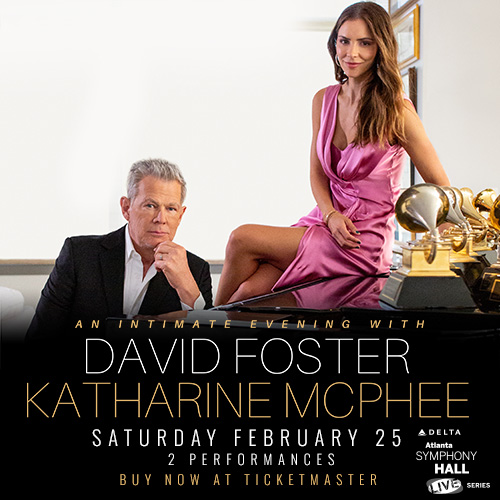 Atlanta Symphony Hall - February 25, 2023, 3pm and 8pm
Coming directly from the Living Room to the stage, this intimate show with the powerhouse duo will be packed with David's hits from Chicago, Whitney Houston, Celine Dion, Josh Groban, Michael Bublé etc. and Kat's biggest songs from American Idol, Smash, and Waitress. Plus some of their favorites that they just love!
For tickets: click here.
Hadestown
Fox Theatre - January 10, 2023 through January 15, 2023
Welcome to HADESTOWN, where a song can change your fate. Winner of eight 2019 Tony Awards, this acclaimed new musical by celebrated singer-songwriter Anas Mitchell and innovative director Rachel Chavkin (Natasha, Pierre & The Great Comet of 1812) is a love story for today and always.Intertwining two mythic tales that of young dreamers Orpheus and Eurydice, and that of King Hades and his wife Persephone HADESTOWN is a haunting and hopeful theatrical experience that grabs you and never lets go.
For tickets: click here.
RENT
7 Stages - December 23, 2022 through January 21, 2023
La Vie Boheme! Pinch 'N' Ouch Theatre will present Jonathan Larson's iconic Pulitzer Prize-winning musical that shaped a generation of audiences and taught us all to measure our life in love. Set in the East Village of New York City, RENT is about falling in love, finding your voice and living for today. Winner of the Tony Award for Best Musical and the Pulitzer Prize for Drama, RENT has become a pop cultural phenomenon. Based loosely on Puccini's La Boheme, Jonathan Larson's RENT follows a year in the life of a group of impoverished young artists and musicians struggling to survive and create in New York's Lower East Side, under the shadow of HIV/AIDS. How these young bohemians negotiate their dreams, loves and conflicts provides the narrative thread to this groundbreaking musical.
For tickets: click here.
American Son
Live Arts Theatre - January 20, 2023 through January 22, 2023
An estranged bi-racial couple must confront their feelings about race and bias after their son is detained by the local police following a traffic stop incident.
This production is recommended for an audience ages 16 and up due to severe adult language, adult topics, and moderate violence. Audience is cautioned that the production contains racial slurs and an audio depiction of a shooting.
Performances will be at the Pinckneyville Community Center: 4650 Peachtree Industrial Blvd, Berkeley Lake GA 30096.
For tickets: click here.
Assassins
Jennie T. Anderson Theatre - January 21, 2023 through January 22, 2023
Assassins lays bare the lives of nine individuals who assassinated or tried to assassinate the President of the United States, in a one-act historical "revusical" that explores the dark side of the American experience. From John Wilkes Booth to Lee Harvey Oswald, writers, Stephen Sondheim and John Weidman, bend the rules of time and space, taking us on a nightmarish roller coaster ride in which assassins and would-be assassins from different historical periods meet, interact and inspire each other to harrowing acts in the name of the American Dream.
For tickets: click here.

Riverdance
Fox Theatre - January 27, 2023 through January 29, 2023
RIVERDANCE as youve never seen it before! A powerful and stirring reinvention of this beloved favourite, celebrated the world over for its Grammy award-winning score and the thrilling energy and passion of its Irish and international dance.Twenty-five years on, composer Bill Whelan has rerecorded his mesmerising soundtrack while producer Moya Doherty and director John McColgan have completely reimagined the ground-breaking show with innovative and spectacular lighting, projection, stage and costume designs.Immerse yourself in the extraordinary power and grace of its music and dance beloved by fans of all ages. Fall in love with the magic of RIVERDANCE all over again.
For tickets: click here.
The Merry Wives of Windsor
The Shakespeare Tavern Playhouse - January 05, 2023 through January 29, 2023
The lecherous Sir John Falstaff sets his sights on the wives of Windsor, leading to a side splitting evening filled with mischief, schemes, a buck basket, a forest full of fairies and one pair of horns. Food and drink available for purchase before every show.
For tickets: click here.
---
Looking to include your shows? Submit them to our listings here.