Seattle is never lacking outstanding theatre, whether epic Broadway shows, engrossing dramas or bold fringe offerings. BroadwayWorld is rounding up our top recommended theatre every month. This month's top picks include Into the Woods and more!
Into the Woods
5th Avenue Theatre - Now through February 21, 2023
"Happily Ever After" has never been so complicated. That's what Little Red, a Witch, Cinderella, the Baker, and his wife discover as they invade one another's stories and find themselves tangled in a web of unexpected consequences. They quickly find this web is too big to untangle on their own and that they must work together to set everything right in the kingdom. Into the Woods reminds us that only together can we defeat the wolves and giants of the world. With a stunning, unforgettable score featuring "No One is Alone," "Children Will Listen," and "Giants in the Sky," this iconic show will enchant, entrance, and delight! A Tony Award-winning Broadway hit and feature film sensation, Into the Woods continues to enthrall theater lovers more than three decades after its creation.
For tickets: click here.
Dear Evan Hansen
The Paramount Theatre - Now through February 21, 2023
The Tony® and Grammy® Award-Winning Best Musical. A letter that was never meant to be seen, a lie that was never meant to be told, a life he never dreamed he could have. Evan Hansen is about to get the one thing he's always wanted: a chance to finally fit in. Dear Evan Hansen is the deeply personal and profoundly contemporary musical about life and the way we live it.
For tickets: click here.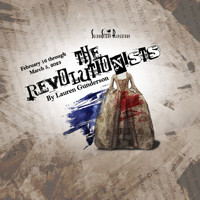 The Revolutionists
SecondStory Repertory - February 17, 2023 through March 05, 2023
Four beautiful, badass women lose their heads in this irreverent, girl-powered comedy set during the French Revolution's Reign of Terror. Playwright Olympe de Gouges, assassin Charlotte Corday, former queen (and fan of ribbons) Marie Antoinette, and Haitian rebel Marianne Angelle hang out, murder Marat, and try to beat back the extremist insanity in 1793 Paris. This grand and dream-tweaked comedy is about violence and legacy, art and activism, feminism and terrorism, compatriots and chosen sisters, and how we actually go about changing the world.
For tickets: click here.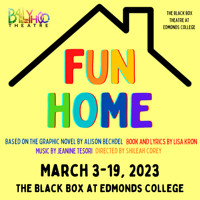 Fun Home
Ballyhoo Theatre and Black Box at Edmonds College - March 03, 2023 through March 19, 2023
The winner of five 2015 Tony Awards including Best Musical, Fun Home is a musical adapted by Lisa Kron and Jeanine Tesori from Alison Bechdel's 2006 graphic memoir of the same name. When her father dies unexpectedly, graphic novelist Alison dives deep into her past to tell the story of the volatile, brilliant, one-of-a-kind man whose temperament and secrets defined her family and her life. Moving between past and present, Alison relives her unique childhood playing at the family's Bechdel Funeral Home, her growing understanding of her own sexuality, and the looming, unanswerable questions about her father's hidden desires.
For tickets: click here.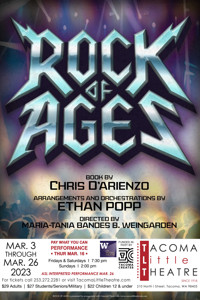 ROCK OF AGES
Tacoma Little Theatre - March 03, 2023 through March 26, 2023
University of Washington-Tacoma and TLT join forces! Aqua Net, Lycra, lace, and liquor flow freely at one of the Sunset Strips last legendary venues in the 1980s. A place where sex machine Stacee Jaxx takes the stage and scantily clad groupies line up to turn their fantasies into reality. Amidst the madness, aspiring rock star (and resident toilet cleaner) Drew longs to take the stage as the next big thing (and longs for Sherri, fresh off the bus from Kansas with stars in her eyes). But the fairy-tale is about to end when German developers sweep into town with plans to turn the fabled Strip into just another capitalist strip mall. Can Drew, Sherri, and the gang save the strip, and themselves, before its too late?
For tickets: click here.
---
Looking to include your shows? Submit them to our listings here.