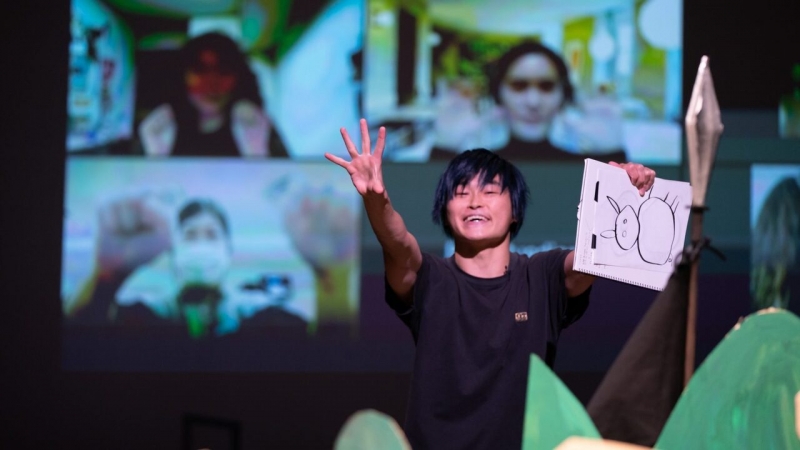 The Tokyo Festival is a comprehensive urban arts festival held every fall around Tokyo's Ikebukuro area, which aims to connect with the world through Tokyo's rich and diverse arts and culture scene.
Tokyo--"フレ フレ Ostrich!! Hayupang Die-Bow-Ken," a hybrid theater performance originally developed by young Asian artists in Tokyo Festival's "farm" works, a newly-conceived platform that brings together all development initiatives within the Tokyo Festival, returns to the festival this year.
Directed by James Harvey Estrada (The Philippines), Aokid (Japan), and Masashi Nukata (Japan), "フレ フレ Ostrich!! Hayupang Die-Bow-Ken" will play online and at a physical venue, the Minamiotsuka Hall, from October 6-8, 2021.
Supertitles or subtitles are available in English or Japanese.
Based on an allegorical tale inspired by realities across Asia, the performance was conceptualized by artists from the Philippines, Indonesia, and Japan to create a hybrid play that bridges the theater and online space with the help of an ostrich.
Bayan ng Damo is a lush, green paradise ruled by A-mat, who uses his dreams to lead his people. The mysterious Ante's powers summon his dreams. But one day, Ante passes away, leaving a prophecy behind: "A one-eyed goat shall be born, bringing great misfortune to this land." No longer able to dream, A-mat follows the words of Ante and orders his guards to find and kill every last pregnant goat.
Ygme, a goat keeper, and Yna, a pregnant goat Ygme regards as family, flee across town to escape A-mat and his men. While on the run, Yna gives birth to Tartaros--a baby goat with one eye--just as Ante predicted.
The performance online is a virtual theater experience, where audience members become part of the story, traveling back and forth between fiction and reality. The audience will experience the performance by participating remotely in the story as a resident of the town of Bayan Ng Damo.
The performers include Bunny Cadag (the Philippines), Robi Rusdiana (Indonesia), and Mei Yamanaka (Japan).
Photo: Tokyo Festival 2021