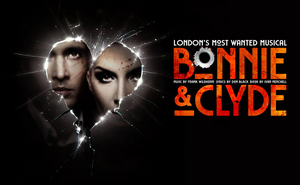 BONNIE AND CLYDE THE MUSICAL, with music from Frank Wildhorn, book by Ivan Menchell and lyrics by Don Black will open in London's West End this April. Tickets go on general sale next Friday, with performances beginning on 9 April.
The announcement was made from the stage at the curtain call of the second of two spectacular performances of Bonnie and Clyde In Concert at Theatre Royal Drury Lane. The concert, starring Broadway's original Clyde, Jeremy Jordan, sold out in just seven minutes. Frank Wildhorn, Don Black and Ivan Menchell were all there for this announcement along with Producer, Dan Looney, from DLAP Group. The musical concerts have been filmed for future release.
Whilst the prolific Wildhorn is the first American composer in 22 years to have had three shows running simultaneously on Broadway: Jekyll & Hyde; The Scarlet Pimpernel; and The Civil War, this production of Bonnie and Clyde will be his first musical to be mounted in the West End.
The new full production opens at the Arts Theatre and is to be directed by Nick Winston (Mame) with set and costume design by Philip Whitcomb (Mame). Full casting and creative team is to be announced in due course.
Menchell said: "There is a tremendous love for this show now, and it's fantastic that it is getting a West End run. The only thing the British love more than Americans on stage, is America's behaving badly on stage!"
Wildhorn added, "The show has built such a wonderful cult following, especially with younger audiences and I'm so excited to see Bonnie and Clyde find its audience here in London!"
For Wildhorn, a native New Yorker, this benchmark event in London is the most recent of many International career highlights. The Tony, Grammy, and Emmy Award nominated composer, best known for creating the music of Broadway's Jekyll & Hyde, Scarlet Pimpernel, Bonnie & Clyde, Dracula and others and for pop music hits such as "Where Do Broken Hearts Go," (Whitney Houston's #1 International hit) and so many others, was commissioned to write a full scale Symphony, recorded by the Vienna Symphony Orchestra which was released on CD on December 10, 2021. The 96 piece Vienna Symphony, led by Conductor Koen Schoots, convened at the renowned Wiener Konzerthaus in Vienna on the 27th and 28th of April, 2021 to record the disc which is produced by Martin Böhm and Ludwig Coss for the MG-SOUND Studios. Orchestrations are by Kim Scharnberg. The full length piece titled, Danube Symphony will be premiered live by the Vienna Symphony in Fall 2022.
And continuing to prove one of his favorite sayings, 'music like love knows no borders,' Wildhorn has been living out his American in Paris/New Yorker in Asia fantasy after meeting his wife, Takako "Yoka Wao" Wildhorn in 2005 when she starred in his Never Say Goodbye in Tokyo. Since then, close to 20 Wildhorn musicals have opened in Asia. (The two married in July 2015.) The year 2021 ended with the opening of Fist of the North Star in Japan, No Longer Human in Shanghai, Jekyll & Hyde on tour in Seoul and Xcalibur in Korea. Amongst others scheduled throughout the year, two shows are opening in Japan in February- The Man Who Laughs and Never Say Goodbye. Xcalibur opens again in Korea on Jan 29th.
Also coming soon from Wildhorn is "Peter The Great" (Music: Frank Wildhorn Lyrics: Jack Murphy Book: Konstantin Rubinsky (Russian writer) is set to open in June in St. Petersburg, Russia.
A couple of additional thoughts from Frank Wildhorn upon the announcement of his first show in the West End:
"Having Bonnie & Clyde opening West End in April is a dream come true! I hope it's the first of many musical adventures we will all share together! It's been a long journey, but I'm so grateful for all the support! Let's all go raise a little hell!"
"Sharing our Bonnie & Clyde journey with 2000 people each night was a beautiful and magical experience! We do it for you, the fans! You have kept the show alive with your passion, support, and love. I hope you can feel our passion and love right back at you! I want to thank everyone who made my first West End experience something so great!"