Los Angeles is never lacking outstanding theatre, whether epic Broadway shows, engrossing dramas or bold fringe offerings. BroadwayWorld is rounding up our top recommended theatre every month. Our top picks for May 2023 include Melissa Errico, LA Opera, and more!
Coachella Valley Repertory - May 04, 2023 through May 04, 2023
Broadway star, Tony Award nominee, actress, singer and author Melissa Errico brings her immaculate vocal style to Coachella Valley Repertory performing NO ONE IS ALONE - Melissa Errico REMEMBERS Stephen Sondheim, her tribute to the late, great genius of American musical theatre. Errico's one-night-only cabaret show will be on May 4 at 7 p.m., opening CVRep's 2023 Cabaret Series. She will sing all of the Sondheim standards, interspersed with stories and insights from her decades-long relationship with him. It will be a fun and philosophical journey using Sondheim's songs from shows such as Gypsy, A Little Night Music, Sweeney Todd, Sunday in the Park with George, Into the Woods, and others.
For tickets: click here.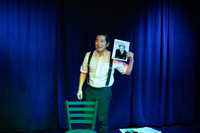 Mr. Yunioshi
Sierra Madre Playhouse - May 05, 2023 through May 07, 2023
The title Mr. Yunioshi refers to the name of the character portrayed by Mickey Rooney in the 1961 film Breakfast at Tiffany's, directed by Blake Edwards (Rooney's former roommate). Rooney portrays Audrey Hepburn's neighbor. It is a cringe-inducing characterization, in which Rooney dons yellowface and wears appliances to "play Asian." Our play Mr. Yunioshi reverses the real-life event by casting Asian American actor J. Elijah Cho to play Mickey Rooney.
For tickets: click here.
Run For Your Wife
Theatre Palisades - March 31, 2023 through May 06, 2023
A London cab driver, John Smith, is leading two lives, complete with two different wives; Mary and Barbara. He manages to juggle them both without arousing suspicion, until he gets mugged and wakes up in the hospital with the wrong wife by his side. He is forced to explain things to his two wives and hilarity ensues. When asked what the audience should be prepared for with this production, director Sherman Wayne says to get ready for "virtually continuous laughter."
For tickets: click here.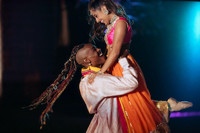 Blue13 Dance Company
Wallis Annenberg Center for the Performing Arts - May 12, 2023 through May 13, 2023
Blue13 Dance Company, the celebrated LA-based dance ensemble living at the intersection of diaspora and disruption, returns to the Wallis Annenberg Center for the Performing Arts with five culturally daring Bollywood-inspired works by Artistic Director and prolific choreographer Achinta S. McDaniel, on Friday, May 12, 7:30 pm, and Saturday, May 13, 2023, 7:30 pm, in The Wallis' Bram Goldsmith Theater. The program includes a preview of Sounds Like a Whoop, Looks Like a Flash, a work in progress exploring invisible disability and addiction; the company premiere of 1947, which addresses the effects of the India-Pakistan partition; excerpts from Shaadi Medley featuring Bollywood and Bhangra dance; and Restless autumn, restless spring, which examines what it means for artists to share experiences and create work together and features an opportunity for audience participate in multiple formats, including taking the stage. Blue13 also presents Dear Mr. Khan, a piece challenging gender norms and impossible ideals set forth for Asian American women. It is the first part of McDaniel's triptych, Terpsichore in Ghungroos, which premiered at The Wallis in February 2020.
For tickets: click here.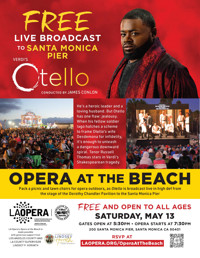 Opera at the Beach
LA Opera - May 13, 2023 through May 13, 2023
Free live broadcast of LA Opera's Otello at Santa Monica Pier. Gather your blankets and lawn chairs, pack your picnic and come experience the music and drama of Otello under the stars. RSVP to receive the latest updates, a free gift at the event plus a chance to win a 3-Opera Ticket Package. This event is free to attend and open to all ages. There will be arts and crafts activities for families to enjoy before the simulcast begins.
For tickets: click here.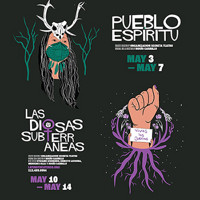 Organización Secreta Teatro
Los Angeles Theatre Center - May 03, 2023 through May 14, 2023
Latino Theater Company presents Mexico City's interdisciplinary, experimental ensemble Organización Secreta Teatro in two new performance works. Pueblo Espíritu ("Spirit Town") explores a post-pandemic dystopian society in which human beings must connect with their mystical surroundings in order to survive. Las Diosas Subterráneas ("Subterranean Goddesses") uses the Greek myth of Demeter and her daughter Persephone, kidnapped by Hades, god of the underworld, to tell a story of mothers looking for their missing daughters who have been kidnapped by human traffickers.
For tickets: click here.
THE LARAMIE PROJECT
Lonny Chapman Theatre - April 14, 2023 through May 21, 2023
The Group Rep is proud to present "The Laramie Project" by Moises Kaufman, Ms. Leigh Fondakowski and The Techtonic Theater Project, directed by Kathleen Delaney, produced by Bill Fitzhugh and Danica Waitley. In 1998, Matthew Shephard, a college student at the U of Wyoming was kidnapped, beaten, tied to a fence and left to die. His crime? Being gay. Kaufman, Fondakowski and members of the Tectonic Theater Project made six trips to Laramie over the course of a year and a half. They conducted more than 200 interviews with the people of the town. The breadth of the reactions to the crime is fascinating. They have constructed a deeply moving theatrical experience from these interviews and their own experiences in Laramie. This play is a breathtaking collage that explores the depths to which humanity can sink and the heights of compassion of which we are capable.
For tickets: click here.
You're A Good Man, Charlie Brown
Edwards Auditorium - May 19, 2023 through May 21, 2023
"You're a Good Man, Charlie Brown" is based on the on the beloved comic strip Peanuts by Charles M. Schulz. Growing up is serious business! Explore a day in the life of Charlie Brown as he goes from wild optimism to utter despair in this delightful revue of songs and vignettes that will take you on a nostalgic trip to all things Peanuts. Join Linus, Lucy, Schroder, and the whole "Peanuts" gang as they bring us along in their journey to learning they learn how a great big dose of sunlight and positivity can be the best medicine. With charm, wit, and heart, this musical comedy will remind us all that the truth can hurt and sometimes it's gut-bustingly funny!
For tickets: click here.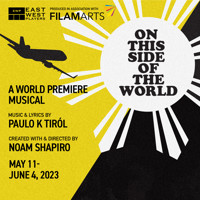 On This Side of the World
East West Players - May 11, 2023 through June 04, 2023
A woman flies from the Philippines to America with a one-way ticket and a suitcase full of stories collected from immigrants who came before her. Suspended above the ocean, she replays these stories in her mind as she searches for the courage to embrace her future. This soaring world premiere musical gives voices to Filipino immigrants navigating old lives and new beginnings, eight-thousand miles from home.
For tickets: click here.
Disney's My Son Pinocchio
Theatre 29 - May 12, 2023 through May 28, 2023
Join the Blue Fairy, Stromboli and a lively cast of characters, as Geppetto journeys beyond the toy shop to discover the meaning of family. When the Blue Fairy grants Geppetto's wish to bring his beloved puppet to life, the new father quickly learns that being a parent is full of challenges. He struggles to make his son "the perfect boy," only to lose him to a gang of Roustabouts. Featuring the beloved classic songs, "When You Wish upon a Star" and "I've Got No Strings," alongside a host of new songs by Oscar- and Grammy Award winner and master melodist, Stephen Schwartz, My Son Pinocchio, tackles timely issues about what it means to be "the perfect child" and what it means to be "a real father."
For tickets: click here.
---
Looking to include your shows? Submit them to our listings here.