Philadelphia is never lacking outstanding theatre, whether epic Broadway shows, engrossing dramas or bold fringe offerings. BroadwayWorld is rounding up our top recommended theatre every month. May 2023's top picks include Rock of Ages, Camelot and more.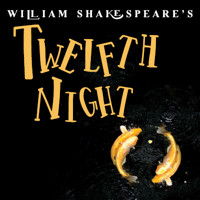 Lantern Theater Company - May 18, 2023 through June 18, 2023
As Shakespeare's most fascinating comic heroine, Viola turns personal tragedy and loss into a life-changing experience for herself and those she comes to love. Yes, there will be a storm, twins, mistaken identities, and - above all - music, the food of love. Join us for an enchanting and poetic journey of discovery.]
For tickets: click here.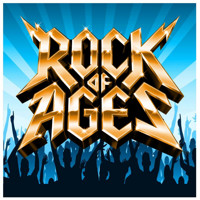 Rock of Ages
The Barn Playhouse - April 21, 2023 through May 06, 2023
It's the tail end of the big, bad 1980's in Hollywood, and the party has been raging hard. Aqua Net, Lycra, lace, and liquor flow freely at one of the Sunset Strip's last legendary venues, a place where sex machine Stacee Jaxx takes the stage and scantily clad groupies line up to turn their fantasies into reality. Amidst the madness, aspiring rock star (and resident toilet cleaner) Drew longs to take the stage as the next big thing (and longs for small-town girl Sherri, fresh off the bus from Kansas with stars in her eyes). But the rock 'n' roll fairy tale is about to end when German developers sweep into town with plans to turn the fabled Strip into just another capitalist strip mall. Can Drew, Sherri and the gang save the strip - and themselves - before it's too late? Only the music of hit bands Styx, Journey, Poison, Twisted Sister, Bon Jovi, Whitesnake and more hold the answer.
For tickets: click here.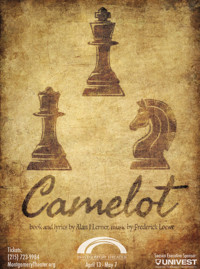 Camelot
Montgomery Theater - April 13, 2023 through May 07, 2023
Borrowing from the Arthurian legends, Lerner and Loewe's Camelot is the duo's fantastical masterpiece which triumphed on Broadway in a legendary original production that lead to a film version, and numerous revivals in New York, London and across the globe. An idealistic young King Arthur hopes to create a kingdom built on honor and dignity, embodied by his Knights of The Round Table. His Ideals, however, are tested when his lovely queen, Guenevere, falls in love with the young Knight, Lancelot, and the fate of the kingdom hangs in the balance.
For tickets: click here.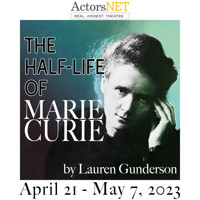 ActorsNET - April 21, 2023 through May 07, 2023
In the early years of the 20th century, double Nobel Prize winner Marie Curie and Hertha Ayrton, an accomplished electromechanical engineer and suffragette, share a years-long, supportive friendship in the face of gossip, loss, and institutional and societal sexism. The story is by turns thought-provoking, moving, charming and surprisingly relevant to today's news. Fridays and Saturdays 8pm, Sundays 2pm.
For tickets: click here.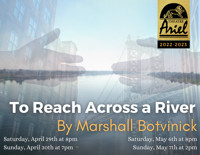 To Reach Across a River by Marshall Botvinick
Theatre Ariel - April 29, 2023 through May 07, 2023
2022 Jewish Plays Project Finalist!In a world where family is everything, Yehudis and her husband struggle to have a baby. That struggle will send Yehudis down a remarkable journey full of courage and transformation as she reaches beyond her Hasidic community to find a child in need of a mother. A story as timeless as Sarahs, as potent as the rescue of Moses from the Nile.To Reach Across a River is being developed in part by Theatre Ariel. Be among the first in the world to see this powerful new play!
For tickets: click here.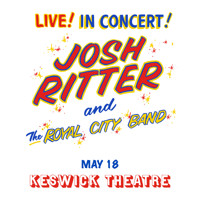 Keswick Theatre - May 18, 2023 through May 18, 2023
For tickets: click here.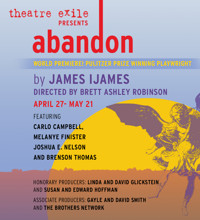 Abandon
Theatre Exile - April 27, 2023 through May 21, 2023
Luella is alone - haunted by the ghost of her son. Joshua is alone - kicked out of his house by his brother. One winter night the two people collide. Luella is looking for redemption; Joshua is looking for family. By the next morning, these two lonely souls are meshed together into an "American Family" in its truest sense. A world premiere by Pulitzer Prize-winning playwright James Ijames, Abandon is sometimes violent, sometimes healing with a thin veil that separates the worlds of the living and the dead, and shame and acceptance. Opening night is set for Wednesday, May 3, at 7 p.m.
For tickets: click here.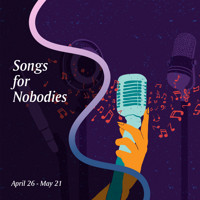 People's Light presents "Songs for Nobodies" by Joanna Murray-Smith
People's Light - April 26, 2023 through May 21, 2023
Malvern-based theatre People's Light presents the critically-acclaimed production Songs for Nobodies by Australian playwright Joanna Murray-Smith. The one-woman show stars actress and singer Bethany Thomas and features the music of Judy Garland, Patsy Cline, Billie Holiday, Édith Piaf, and Maria Callas. In Songs for Nobodies, Thomas appears as 10 characters: the five culture-defining divas and the five titular "nobodies" who propel the play through stories about their unlikely encounters with each singer. Directed by Rob Lindley, the show beautifully demonstrates the power of music to create profound connections in everyday life.
For tickets: click here.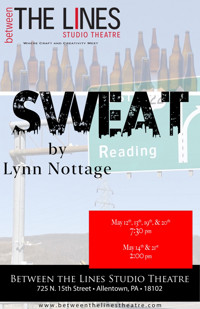 Sweat
Between the Lines Studio Theatre - May 12, 2023 through May 21, 2023
"Sweat" tells the story of a group of friends in Reading PA, who have spent their lives sharing drinks, secrets, and laughs while working together on the factory floor. But when layoffs and picket lines begin to chip away at their trust, the friends find themselves pitted against each other in a heart-wrenching fight to stay afloat.
For tickets: click here.
---
Looking to include your shows? Submit them to our listings here.