Orlando is never lacking outstanding theatre, whether epic Broadway shows, engrossing dramas or bold fringe offerings. BroadwayWorld is rounding up our top recommended theatre every month. Our top picks for Orlando in September 2023 include The Comedy of Errors, The Prom, Reefer Madness, and more!
The Comedy of Errors
Orlando Shakespeare Theatre - September 06, 2023 through October 01, 2023
Set during the revelries of Mardi Gras and featuring New Orleans Jazz, Zydeco and Delta Blues music, Shakespeare's non-stop hilarious farce of love, mistaken identity, and two sets of twins separated as babies - gets swept up in the carnival celebrations. Bring your Mardi Gras beads and let the good times roll!
For tickets: click here.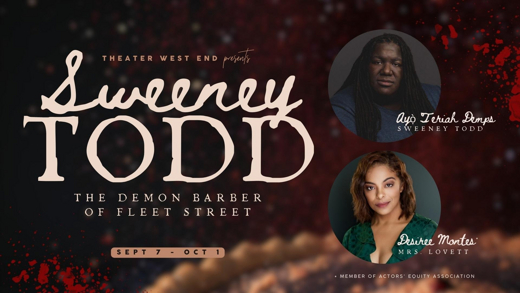 Sweeney Todd
Theater West End - September 07, 2023 through October 01, 2023
Sweeney Todd has become a bloody, worldwide success since being awarded eight Tony's, (including Best Musical), for its Broadway premiere. Stephen Sondheim's and Hugh Wheeler's (A Little Night Music, Pacific Overtures) tasty, thrilling, theatrical treat has simultaneously shocked, awed and delighted audiences across the world.
For tickets: click here.
The Prom
Titusville Playhouse - September 08, 2023 through October 01, 2023
It's a story of love, acceptance and embracing the person you were meant to be. You're invited to The Prom, Broadway's new smash hit and now a major motion picture on Netflix that's full of sparkle and "Zazz!" A troupe of hilarious, self-absorbed and down-on-their-luck Broadway stars shake up a small Indiana town as they rally behind a teen who wants to go to the prom with her girlfriend. The Prom – it's about a love that unites them all!
For tickets: click here.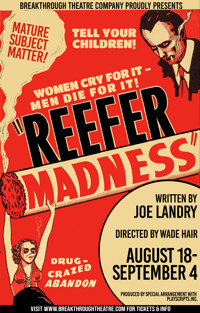 Reefer Madness
Breakthrough Theatre Company - August 18, 2023 through September 04, 2023
Lust! Paranoia! Murder! All rolled into one... Set in All-American 1950s suburbia, Dr. Carroll, principal of the local high school, warns how one puff of pot can lead clean-cut teenagers down the road to insanity, death, and worse. Stopping at nothing to make his point, Dr. Carroll tells the sad, sordid story of how the nicest kids in town are lured into a world of violence, weird orgies, wild parties, unleashed passions, and drug-crazed abandon. A spoof of the 1936 cult classic film.
For tickets: click here.
Chicken and Biscuits
Theatre UCF - September 21, 2023 through October 01, 2023
Meet the Jenkins family as they gather to remember the life of their late patriarch. This peaceful funeral is disrupted when a guest reveals a deep family secret, sending the group into a dramatic frenzy full of jabs, laughter and lots of stirring the pot. Can this family reconcile before they lay their beloved to rest?
For tickets: click here.
Athens Theatre - September 22, 2023 through October 15, 2023
Stephen King's critically acclaimed novel, Misery is set to hit the stage! Someone can love you so much it hurts—you. The life of Paul, a successful romance novelist, is saved (or is it?) when he is rescued from a car crash by his "Number One Fan," Annie Wilkes. Audiences will remember this as the knockout (pun intended) role which won Kathy Bates an Oscar for Best Actress in 1991. When Paul wakes up, he realizes he is being held captive in her remote, secluded home. As he slowly begins to get better, Annie reads the manuscript to his newest novel and becomes engulfed in rage when she discovers the author has killed off her favorite character, Misery Chastain! Annie forces Paul to write a new "Misery" novel, and he quickly begins to realize that his new caretaker/warden has no intention of letting him go anywhere. As Annie continues to unravel and lose her grip on reality, she has Paul writing day and night. It's as if his life depended on it, which—it turns out—it does. Paul struggles to pen a book he doesn't want to write and begins to realize that if he does not find a way out of this living nightmare, Misery will be much more than a character in one of his books; it'll be his sole existence!
For tickets: click here.
---
Looking to include your shows? Submit them to our listings here.