Los Angeles is never lacking outstanding theatre, whether epic Broadway shows, engrossing dramas or bold fringe offerings. BroadwayWorld is rounding up our top recommended theatre every month. This month's top picks include the Hollywood Bowl's Sound of Music sing-a-long, and more!
Sing-A-Long Sound of Music
Hollywood Bowl - September 16, 2023 through September 16, 2023
Here are a few of our favorite things: The Bowl on a summer night, singing songs with friends old and new, and the Hollywood Hills coming alive with the sound of music! Join the von Trapps and fellow music fans for this Bowl tradition, and don a clever costume for the pre-show contest with hilarious host Melissa Peterman at our special screening of the Oscar®-winning film.
For tickets: click here.
Our Dear Dead Drug Lord
Kirk Douglas Theatre - August 20, 2023 through September 17, 2023
In this fierce and feverish comedy from breakout playwright Alexis Scheer, a gang of teenage girls gathers in an abandoned treehouse to summon the ghost of Pablo Escobar. Are they messing with the actual spirit of the infamous cartel kingpin? Or are they really just messing with each other? Intimate in nature yet universal in its ability to explore the need to connect, the play is an unflinching and powerful reminder of what it means to be human. As it races to its startling conclusion, audiences will be left catching their breath. A rollercoaster ride through the danger and damage of girlhood – the teenage wasteland has never been so much twisted fun.
For tickets: click here.
The Sound Inside
Pasadena Playhouse - September 06, 2023 through October 01, 2023
Not everything is as it seems behind the ivy-covered walls of Yale, where an unlikely bond leads to an unthinkable favor. Writing professor Bella Baird, played by Amy Brenneman (*NYDP Blue, Judging Amy, Private Practice*), is looking for answers, but a fateful encounter with a mysterious student could lead to life-changing consequences for both of them. Nominated for six Tony Awards, including Best Play, Pulitzer Prize finalist Adam Rapp's haunting 90-minute thriller will leave you wondering who you can trust and remind you everyone has a story — the question is how it ends.
For tickets: click here.
Les Misérables
Segerstrom Center for the Arts, Segerstrom Hall - September 19, 2023 through October 01, 2023
STILL THE WORLD'S MOST POPULAR MUSICAL Cameron Mackintosh presents the acclaimed production of Alain Boublil and Claude-Michel Schönberg's Tony Award-winning musical phenomenon, Les Misérables. This brilliant staging has taken the world by storm and has been hailed as "Les Miz for the 21st Century" (Huffington Post), "a reborn dream of a production" (Daily Telegraph) and "one of the greatest musicals ever created" (Chicago Tribune). Set against the backdrop of 19th century France, Les Misérables tells an enthralling story of broken dreams and unrequited love, passion, sacrifice and redemption – a timeless testament to the survival of the human spirit. This epic and uplifting story has become one of the most celebrated musicals in theatrical history. The magnificent score of Les Misérables includes the songs "I Dreamed a Dream," "On My Own," "Bring Him Home," "One Day More," "Master of the House" and many more. Seen by over 130 million people worldwide in 53 countries and 22 languages, Les Misérables is undisputedly one of the world's most popular musicals.
For tickets: click here.
The Beauty Queen of Leenane
Costa Mesa Playhouse - August 26, 2023 through September 17, 2023
The Costa Mesa Playhouse opens it's 58th season with Martin McDonagh's "The Beauty Queen of Leenane". Martin McDonagh's darkly comic "The Beauty Queen of Leenane" tells the tale of Maureen Folan, a plain and lonely woman, and Mag, her manipulative aging mother. Mag's interference in Maureen's first and potentially last loving relationship sets in motion a chain of events that are as tragically funny as they are horrific. Written by acclaimed playwright, screenwriter, and director Martin McDonagh ("A Behanding in Spokane, The Pillowman, The Banshees of Inisherin, Three Billboards Outside Ebbing, Missouri"). "The Beauty Queen of Leenane" is directed by Peter Hilton and Michael Serna, and is performed by Mark Coyan, Silvana Gargione, Cody Hanify, Andrea G. La Vela, and Jordana Oberman.
For tickets: click here.
Macbeth
Will Geer's Theatricum Botanicum - June 10, 2023 through September 23, 2023
Shakespeare's most infamously lethal couple feed each other's ambitious passion with the gall to scale higher above and beyond everything and everyone around them. Unable to be sated until the bones are picked clean, they continue to devour the very food that brings their disastrous end.
For tickets: click here.
HAIR
Altadena Music Theatre - Now through September 24, 2023
This production of Hair offers more than just tuneful melodies and riveting performances. It's a soulful immersion into an era that championed love, unity, and societal change. Relive the Age of Aquarius, where a band of idealistic freedom fighters, bound by love and revolutionary spirit, takes center stage. Through its Grammy Award-winning score, Hair navigates the intricate themes of personal liberty, revolution, and the perennial quest for peace. Now more than ever, its powerful message remains crucial, echoing timeless calls for love, unity, and understanding. This production not only entertains but enlightens, serving as a brilliant beacon of hope, emphasizing the power of unity in times of division.
For tickets: click here.
This Is Not a True Story
Los Angeles Theatre Center - Now through October 15, 2023
Artists at Play in association with Latino Theater Company presents an exhilarating new comedy that tackles, head-on, the fetishization and anti-Asian racism of Orientalist works. Tired racist tropes are upended as the fictional worlds of Madame Butterfly, Miss Saigon and Kumiko the Treasure Hunter collide with modern reality. Three Asian "tragic heroines" find themselves trapped in a loop they can't control — until they claim agency over their lives, determined to break the cycle.
For tickets: click here.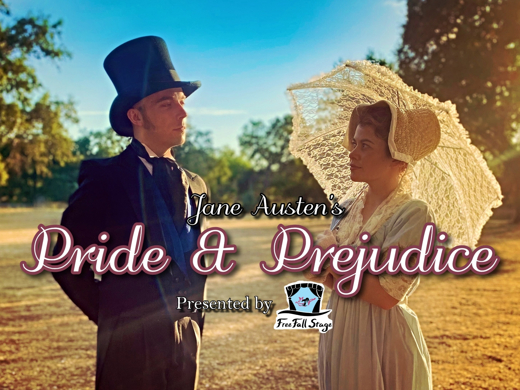 Pride & Prejudice
Royal Stage Theatre - September 08, 2023 through September 24, 2023
Jane Austen's Pride & Prejudice follows the sometimes turbulent romance of Elizabeth Bennet and Fitzwilliam Darcy along with that of her sister, Jane, and his friend, Charles Bingley. This adaptation includes all the familiar characters and well-loved dialogue that made this story a classic.
For tickets: click here.
Exorcistic The Rock Musical
The Three Clubs - June 30, 2023 through September 16, 2023
BEST MUSICAL WINNER of the Hollywood Fringe Festival 2013 returns ten years later to celebrate the 50th Anniversary of The Exorcist with an original rock musical that'll make your head spin and your bed shake! We watch as the dysfunctional Orgasmico Theatre Company dissects the film's cultural relevance, its controversial themes, the 1970s mentality, and pack their pretentious theories all into one big blasphemous rock musical parody that allows them to break the fourth wall and engage the audience...
For tickets: click here.
---
Looking to include your shows? Submit them to our listings here.